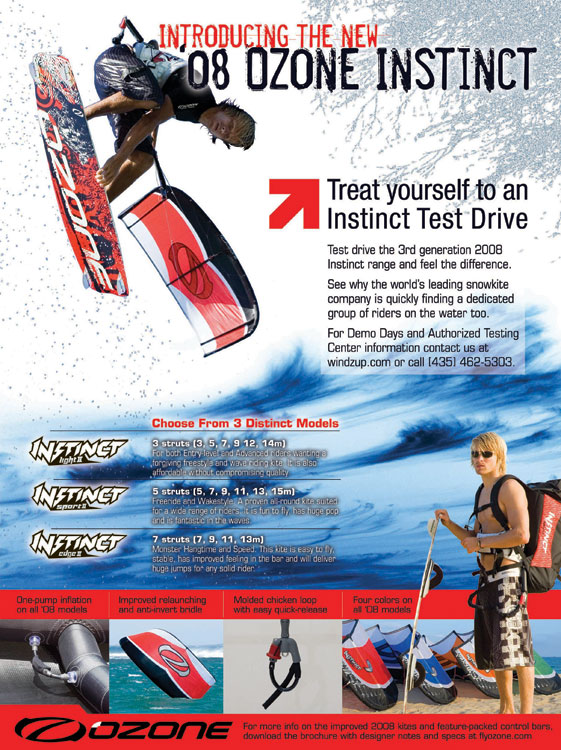 Client
Ozone Kiteboarding
Background
Ozone makes kites for the sport of kiteboarding.
Ozone was, and still is, a leading manufacturer of kites for kiteboarding with skis or a snowboard on snow. At the time this ad was run, they were in their 3rd season of producing the Instinct line of kites designed specifically for kiting on water with a wakeboard or surfboard.
Challenge
With an already crowded field of manufacturers making this type of kite for water, Ozone needed to make buyers aware of the latest design advances and motivate them to buy.
Solution
The best way to convince buyers to drop $2,000 on a new kite is through the direct experience of flying the kites in person. So the US distributor planned a series of demo days and used that as the primary focus in the ad shown above. The second focus was on some of the unique features of the kites themselves. And finally, the ad simply had to look cool. Brand loyalty is a major factor in the sport and the competition for buyers is stiff with a great deal of effort put into branding and image. To help overcome these challenges I created an interesting looking main image with vibrant colors throughout. For the main image I used a mix of different texture images layered with an interesting action shot that showed a pro-rider Sigve Botnen jumping with the new kite. The "Test Drive" demo day call-to-action was placed prominently next to the main image. The images and text explaining the unique features were placed at the bottom to anchor the ad.
The new kites were well received and continue to maintain market share thanks to product innovations and relentless marketing.
[katb_testimonial id="34″ rotate="no" layout="0″ schema="default"]
to view other Success Stories