Photo by Dona Laurita
Client
Parisi Restaurant
Background
Restaurant owner Christine Parisi was referred to me to help with a visual update to her restaurant business. She actually runs two separate restaurants, Parisi and Firenze a Tavola, that happen to be in the same building. Parisi is a nice bright location on the street level and Firenze a Tavola is cozily located downstairs. Parisi is a fast/casual Tuscan restaurant with seated dining, take-out, a walk-up deli and catering. Firenze a Tavola is a Tuscan dining and wine bar that provides a fine dining experience with special "Community Table" nights where you can dine and meet new faces at a large table. I highly recommend visiting both for their unique and delicious food. Oh and you can see some of my work in person then tell me how great I am, or not.
[katb_testimonial id="27″ rotate="no" layout="0″ schema="default"]
Challenge
Christine had a vision for a complete remodel of the main floor where the Parisi fast/casual restaurant is located. She wanted to update the interior and overall atmosphere to feel bright and modern while changing the floor layout. The menu offerings were updated at the same time, so there were a lot of moving parts that had to be considered.
The first challenge included updating the Parisi logo. This also included updating the Firenze a Tavola logo and giving them both some common elements to tie them together while also giving them their own separate identities.
The second challenge was to create all new signage, separate menus for dining in or take-out and many other marketing collateral pieces.
Solution
We discussed and analyzed the existing logos and the goals of the brand refresh. Then we tackled the new menus and signage.
Coordinating with interior design architects
Before diving in too far, Christine and I met with Semple Brown, the restaurant interior design firm. We sat down with them to discuss the intended atmosphere and then dove into details about possible materials to be used (like reclaimed wood) and color palettes. This was valuable insight for me going forward with the design of many pieces that needed to match the interior design.
Logo design
The old and new Parisi logos are shown below. The original logo had too much of an "old world" feel compared to what the new logo needed.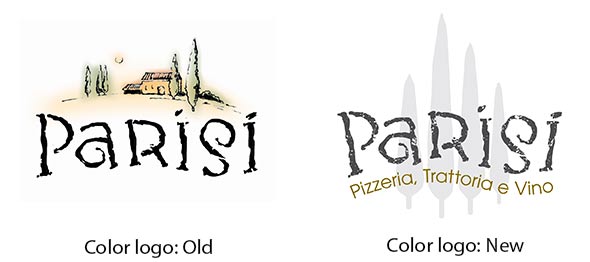 To update it I simplified the graphic of the water color painting of a Tuscan landscape by using three simple Cyprus trees that were integrated with the main letters and new tagline. The different size trees adds perspective, depth and visual interest without being too overwhelming with the text placed in front. (Note that the trees may appear very light on some computer screens.) I used a dark gray instead of black for the letters to soften their appearance. I also added some extra texture to the letters to bring back a more natural feel to the logo that was lost when I replaced the painting with the trees.
The old and new Firenze a Tavola logos are shown below. The old logo was displayed just as a typeface and sometimes was accompanied by an actual photo of a city scape with a church dome.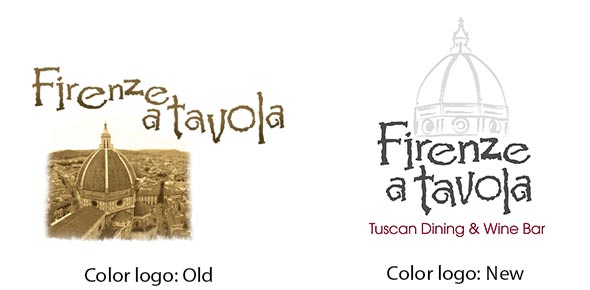 Photos are not versatile enough to be used in place of a logo/icon in many instances, so I recreated the distinct church dome in a more useful line art format. This new graphic became the unique identifying mark similar to the Cyprus trees in the Parisi logo. The original typeface layout was wide and disjointed. I stacked the words in a more compact and cohesive way that worked much better when paired with the church dome icon.
The color palettes for both logos were chosen specifically to work together as well as separate. They both give the appearance of quality while the Parisi logo is a bit brighter and modern, and the Firenze a Tavola logo is more subdued and traditional, to match the feel of each restaurant.
Before and after images showing both sets of logos are shown below.
Signage and Collateral
The collateral included food and beverage menus, signage, comment cards, business cards, letterhead, envelopes, gratis cards, postcards, rack cards, pizza boxes, stamps, table numbers, shirts,  newsletter graphics and magazine advertisements. Oh my!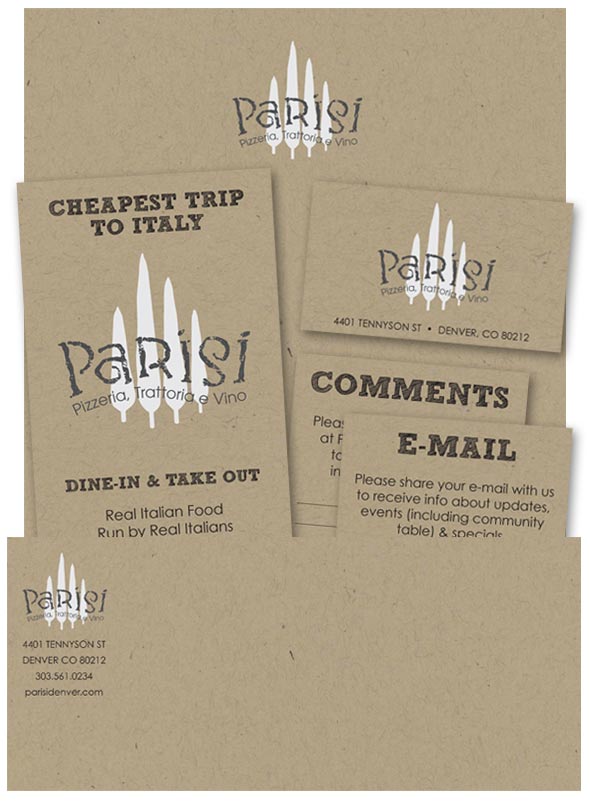 Marketing Collateral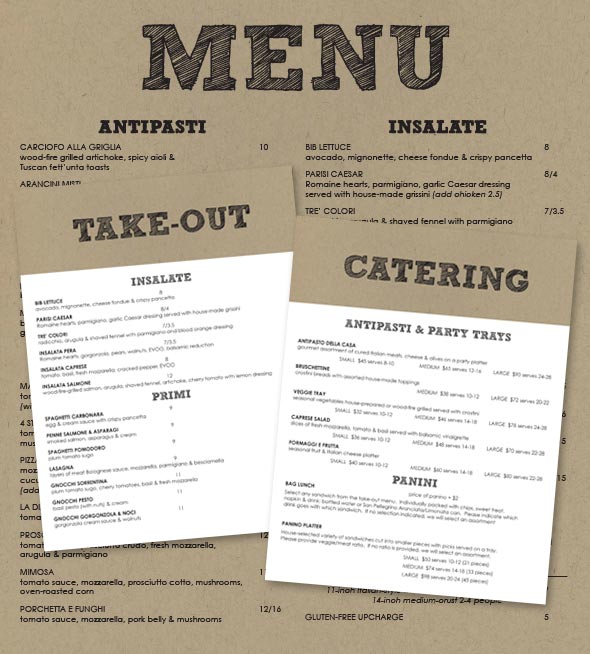 Menus
Entryway signage with menu pocket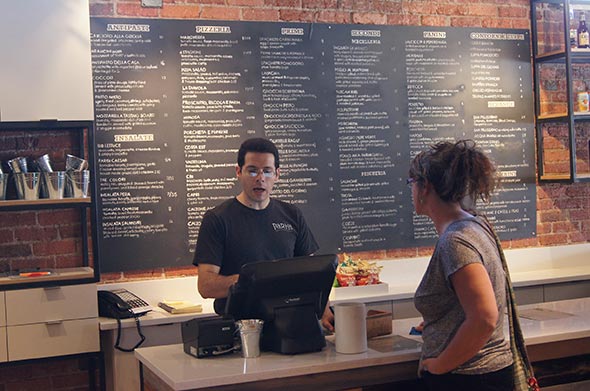 Ordering counter with a large chalkboard-style menu on the wall behind.
The gorgeous new interior space at Parisi. Photo by Dona Laurita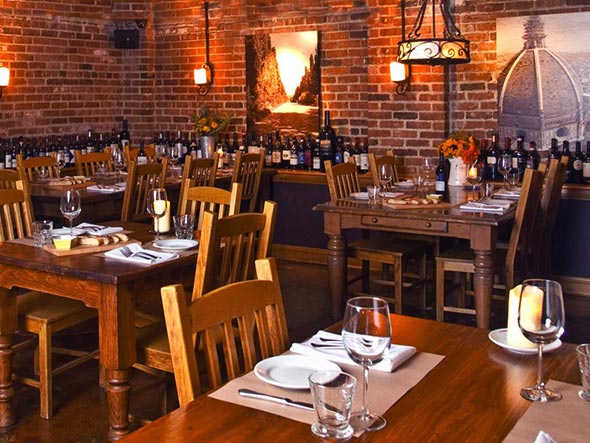 The cozy interior at Firenze a Tavola. Photo by Dona Laurita
Rollout:
We wanted to get customers excited about the new remodel before the new build was started, so we placed a few ads in local magazines (including 5280 Magazine) with teasers about what was coming. Then when the remodel was complete we made the big announcement and invited loyal customers to come check out the new restaurant. It was a big hit. The last time I stopped by, it was pretty busy at Parisi. Rather than wait we just went downstairs to Firenze a Tavola and got in right away. We had a fabulous meal that was unique and delicious!
Visit Parisidenver.com for more information and definitely stop in for delicious food!
to view other Success Stories