Client
Powder Jack
Background
Powder Jack is a tool for getting snowmobiles unstuck. The Powder Jack company was originally started in 2008. Then in 2014 my friend Matt told me about the opportunity to buy the business along with his business partner Dan. Dan had been building the jacks for the original owners before partnering with Matt in a profitably fabrication business. Matt and Dan knew a lot about manufacturing but were not snowmobilers and didn't have expertise in branding, advertising and marketing. That's where I came in. Before buying the company, Matt asked me if I was interested in partnering. It sounded interesting and right up my alley because I'd grown up on snowmobiles in Alaska and Colorado and specialized in branding, advertising and marketing. We worked together until 2017 when I took over the business. I had to learn about parts sourcing, manufacturing, engineering, pricing, distribution, finances and much more.
Challenge
Create a progressive brand that would connect with snowmobile enthusiasts and sell a ton of jacks. There are two other competitors in this product category, and while they have been around for awhile, they hadn't done any real advertising. So many snowmobilers were unaware of the existence of this tool. The good side of that was the opportunity to get the Powder Jack name out without competition. But it was like starting from scratch to convince snowmobilers that they needed this tool that they weren't aware of the first place. I could go on and on about the challenges of manufacturing costs, price points and distribution, but will spare you. If you have similar challenges, I'd be happy to share the many insights I learned on the journey. Give me a call anytime to discuss.
Solution
Let's just say that I understand the snowmobile demographic. I grew up on a snowmobile in Alaska and have competed in similar sports that require helmets and testosterone. So I felt I had a handle on this when I started to envision the logo and feel of the brand.
There was a website and a product already in existence, but they didn't really even have a logo. The closest thing to a logo was the graphic below that I pulled from the original website. I could see what they were trying to do with the clever use of the jack handle as the letter "J". The problem is that the handle is too different (gray) from the other letters (white). So if you see it at a distance or in a small format, it reads like "Power ack" without the "J". This is a common amateur mistake in logo design and I see it all the time. It may seem like a good concept, but if done wrong fails to be readable. #FAIL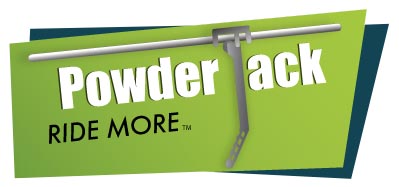 The original "logo" for Powder Jack.
The new and improved logo.
So as you can see in the new logo, I created an icon using the "P" and "J" from a custom font that is based on the stylized letters of the full name.
The color scheme uses orange (PMS Orange 021c to be exact) and black. I chose this color combination for a variety of reasons:
The main snowmobile manufacturers use other colors besides orange (Blue, Green and Yellow mainly) so fans of the other brands wouldn't be swayed one way or the other. For example, SkiDoo fans (yellow) may have liked a yellow jack brand. But a Yamaha fan (blue) might dislike the yellow color jacks because they are such loyal fans to their blue brand. It may sound implausible and irrational but it is a real concern.
Orange is a bit different and trendy. (but not necessarily too trendy to go out of fashion)
The main customer demographic for the jacks are guys with some, or a lot of gray hair. Weird fact: Research shows that as our brains and eyes age, we tend to like the color orange more.
I like orange myself, and may have some gray hair. Tell anyone and I'll kill you. Kidding.
The website was our main selling tool since most sales were made direct to the consumer through eCommerce functionality. One of the challenges for the jack is explaining how it works to those that are unfamiliar with it. It took some effort to film and edit a short video showing the jack in action. It worked very well as a substitute for showing people in person out in the snow or at trade shows. I had some help with the video from some very overqualified guys. The animated logo was created by Gil Hinkley. The concept and final execution was way cooler than I had imagined. My talented brother, Jeff Brown, created the sound effects for the animated logo and also the music in the background. I can't thank them enough. If you have a need for this kind of work, I'd gladly pass on their contact information.
Testimonials and a Refer-A-Friend program (shown below) helped to alleviate resistance from buyers.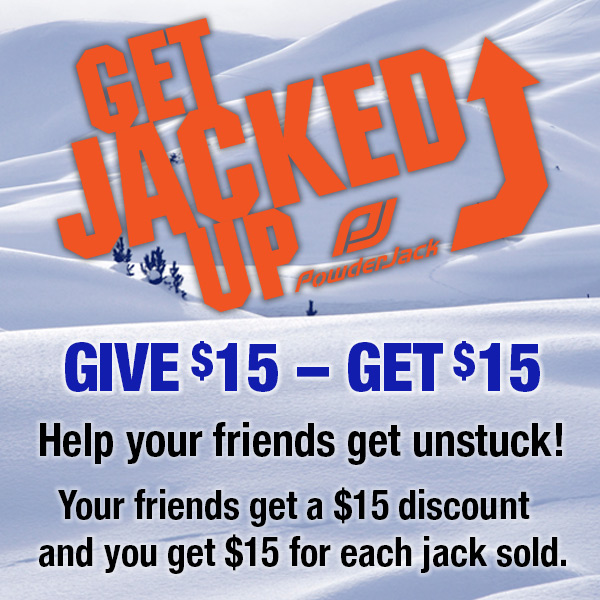 We started out in the beginning running traditional ads in snowmobile magazines but transitioned to their digital options (website and eNewsletters) due to the high costs of print. All the while we used email marketing, Facebook, Twitter and Instagram to engage with customers organically. We also paid for some Google and Facebook ads for seasonal promotions.
The advertisement below was one of many that we ran on Instagram. The photo itself was submitted by one of the many followers that willingly let me use it in exchange for tagging them back.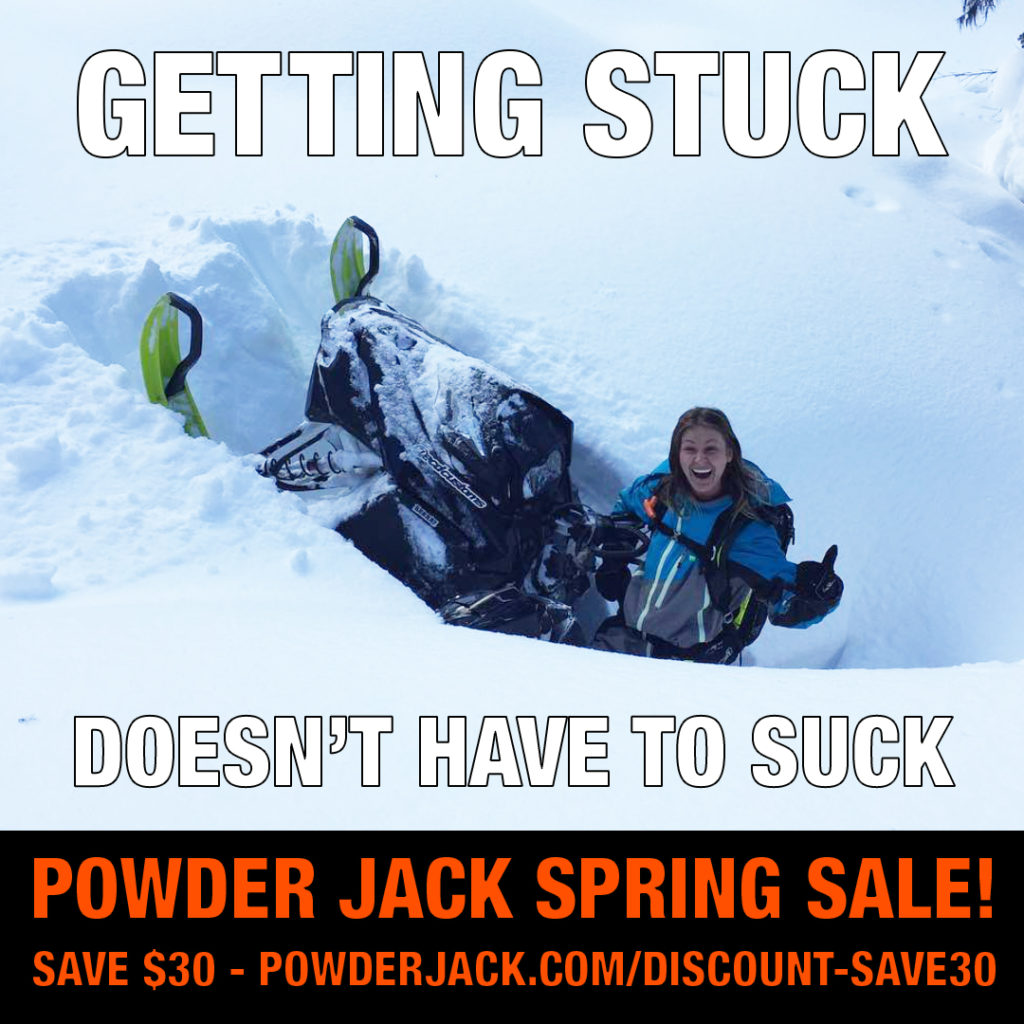 One of the most effective promotional ideas I came up with was our mascot, "Powder" Jack. Snowmobilers really ate it up. I bought the awesome coyote hat, jacket and beard on eBay. It was great because anyone could wear it for videos or public appearances. I also bought a full-sized mannequin that I would dress up in the outfit for taking to trade shows. People would come up and take pictures with him and some kids would just stand and stare at him. Sometimes guys with similar big beards walk by and I'd ask to get pictures of them together to post to social media.
As mentioned before, I took over the business in 2017 and learned a ton in that first year. My hard work paid off by exceeding sales targets beyond all of the previous years! I even had multiple offers to buy the business along the way. Bonus!
"Powder Jack was an amateur Mom and Pop operation before we purchased the company. James' expertise and graphic design skills transformed the company into a professional brand to make us a leader in the snowmobile marketplace."
to view other Success Stories