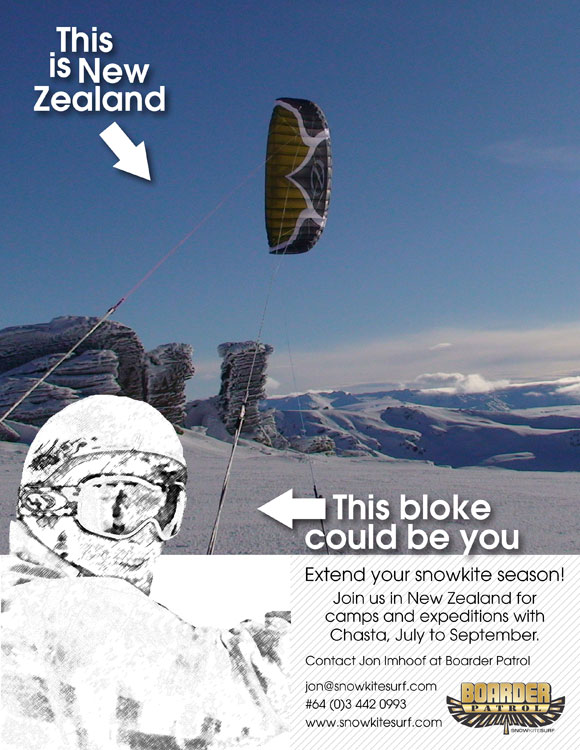 Client
Boarder Patrol
Background
Boarder Patrol offers snowkite adventure camps and expeditions in New Zealand.
Challenge
Create a one-page advertisement to motivate snowkiters to visit New Zealand for a guided camp or expedition with famed professional snowkiter (and winning Nagano olympic snowboarder), Guillaume "Chasta" Chastagnol and local guide Jon Imhoof.
Solution
The unique rock formations in this photo were a big hook for me. I wanted to go there and check it out. And I wanted to be the guy in the photo! So it made sense that other snowkiters would feel the same. I applied a sketch filter to the guy in the picture to make him look like it could be anybody. It could be you or me! Then I added the simple text and arrows to drive home the message. Very straightforward and eye-catching (for lack of a fancier term). The ad appeared in the online version of Drift Snowkite Magazine and was read in over 100 countries. It helped put New Zealand on the map for snowkite destinations throughout the world.
"I worked very closely with James for years designing and laying out many issues of the The Kiteboarder Magazine. James is a great guy to work with and his attention to detail and creative designs helped The Kiteboarder Magazine to become one of the most recognized kiteboarding publications in the world. We never missed a press deadline or sacrificed quality despite burning the midnight oil for weeks at a time. You won't find a better guy who is not afraid to get his hands dirty in the trenches."
to view other Success Stories